On the 8th of March, which was a Tuesday, Mummy woke up having contractions. This meant that you were finally ready to be born, and that Daddy, who had just done a night shift, was both very excited and slightly panicked.
We had hoped that you would be born in the New Forest Birthing Centre but Mummy's blood pressure was too high and so we had to go to the Princess Anne Hospital instead. This is were you were born, and also where Mummy was born 28 1/2 years before... and Jamie & Flossie too. Daddy was born in Montreal, Canada.
Mummy stayed over night at the hospital, while Daddy went back to Grandma and Grandad's house which was a lot closer to the hospital than our house. On Wednesday morning at around 11 o'clock Mummy had her waters broken and we found out that there was meconium in the waters. This meant that you were not comfortable inside Mummy and so she was given some chemicals to make sure that you came out quickly. Mummy and Daddy sat on a bed in the hospital and watched Dr Who on Mummy's computer, which the midwives thought was a very clever idea.
Mummy had a machine hooked up next to the bed which allowed Mummy and Daddy and the midwives to hear your heart beating. At around 7 o'clock your heart beat started to get very slow, and then it stopped. This made Mummy very scared and the midwives called in some doctors who decided that you had to come out of Mummy right now. Mummy got wheeled in her bed into surgery, and Daddy got dressed in some different clothes so that he could go into the room too.
The doctors performed a caesarian section. This means that they cut into Mummy very carefully, lifted you out through the hole and then stitched Mummy back up again. While they were stitching Mummy back up, you were weighed and measured, they checked your heart beat and how you were breathing, and then they wrapped you up in a towel and put you in a trolley and wheeled you over so that Daddy could cuddle you and Mummy could see you, Mummy wasn't allowed to cuddle you until the doctors had finished.
You were bright red and looking at everything with wide open eyes, and you weren't crying at all. Daddy held you close, and moved the towel so that Mummy could see your face. Then you and Mummy got wheeled through to a recovery room, and Mummy could finally cuddle you and check you all over.
Your head was all squished and pointy at the back where you had been pushing against Mummy's pelvic bones, and you looked like a little garden gnome.
Uncle Ben Hill was waiting in the recovery room to take some pictures of you, and Daddy texted Auntie Becki to let her know that you were born. Auntie Becki let everyone else know.
(picofben+corben)
Daddy and Uncle Ben were hungry and ordered some pizza, which the mean midwife wouldn't let Mummy have. So Daddy and Uncle Ben ate lots of pizza and ice cream, but Mummy had none.
The next day Grandma and Grandad came to visit you and Mummy in the hospital, (picofgrandma+corben)and after they left Auntie Becki and Auntie Beth came to see you. (pic of beth+corben)
The day after that, Friday, was Auntie Becki's birthday and you, Mummy and Daddy walked from the New Forest Birthing centre over to the pub where Auntie Becki and Auntie Jen were having lunch with Jeff and Hannah.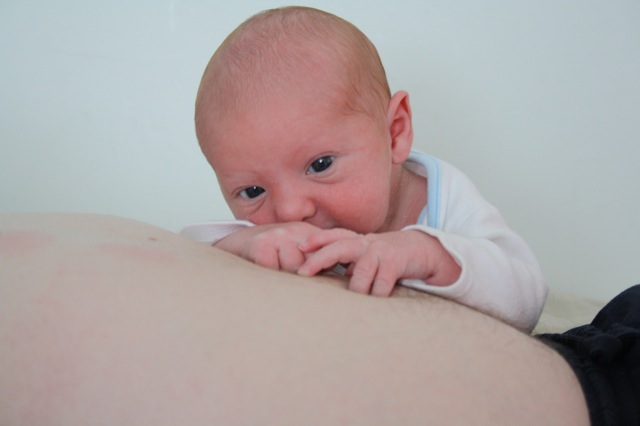 On Saturday, Mummy was sick of spending the nights all by herself with you and lots of other babies had been born so there wasn't space anymore. Auntie Becki came and picked up you and Mummy and drove you over to Grandmas house. There were lots of people waiting to meet you, including Danny and Nicholas.
Hershy came and had a cuddle with you and Mummy, but Padzi got upset when you cried and he ran out of the room.
Mummy was very tired, and Daddy was very busy helping Auntie Maya with Danny and Nicholas, as Uncle Ben had been very sick and was taken to hospital. Grandma, Grandad and Auntie Beth all helped take care of you. Jamie came over to meet you from his house, he said you were very cute.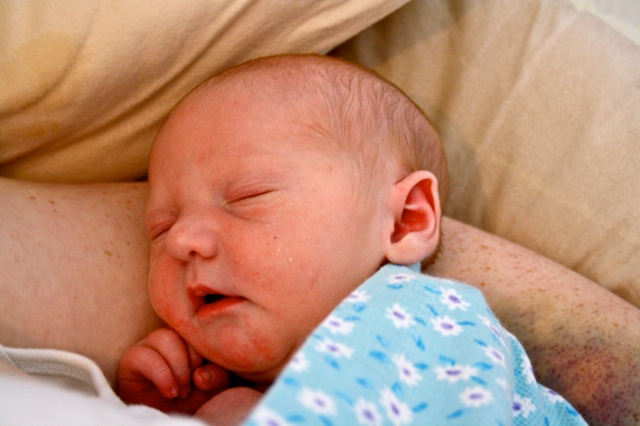 On Monday the midwife came to check on you and make sure that you were gaining enough weight. She took all your clothes off and put you on some scales, which you decided meant that you should pee. You managed to pee right into the poor midwife's face!! She still said that you were very cute.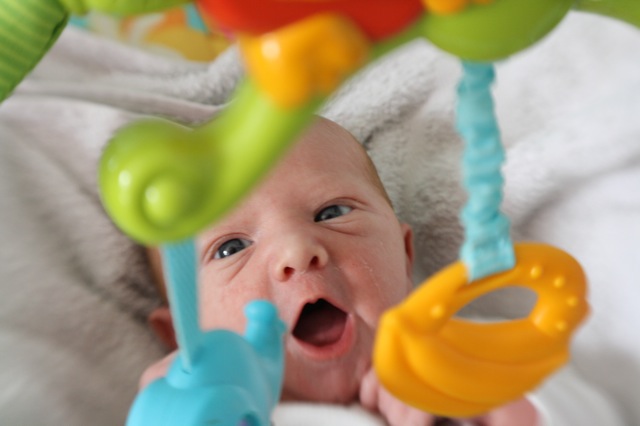 Mummy and Daddy stayed at Grandma's with you for 8 days, and then went home on March 20th. We were all very happy at Grandma's but it felt even nicer to have you in the nursery that we had made for you.